Selection Guide
General Information
HRD manufactures gravity rollers,sprocket rollers ,grooved rollers and all kinds of conveyors.The following information is intended to guide you through the proper application and selection of rollers and conveyors.Basiclly,different type rollers are for different roller conveyors:The gravity roller is used for telescopic conveyors and steel frame gravity conveyors;the sprocket roller is used for chain driven roller conveyors,the grooved roller is used for spool roller conveyors.
Roller size
For the first step,we should confirm the dimension,weight,and other properties of conveying objects.Therefore,the following listed information of conveying objects should be obtained.
·Dimension and max unit weight
The length of roller is normally 50mm longer than the max width of object.With regards to the tube and shaft sizes,we have to consider the required capacity(max weight of object),which is limited to the bearing capacity, shaft deflection, tube deflection, or tube strength. With the following table,we can know the tube diameter,shaft diameter based on required capacity.Please note the Φ 25x1.0-Φ8 means tube diameter 25mm,thickness 1.0mm,shaft diameter 8mm.
Specification

Length(mm)

100

200

300

400

500

600

700

800

900

1000

Φ 25x1.0-Φ8

Capacity(kgs)

80

70

60

60

50

40

30

20

10

10

Φ 38x1.5-Φ12

130

120

110

100

90

80

70

60

40

30

Φ 50x1.5-Φ12

180

160

140

130

120

100

90

80

70

50

Φ 57x1.5-Φ12

200

180

160

150

140

120

110

100

90

70

Φ 60x2.0-Φ12

280

260

240

220

210

200

180

170

160

150

Φ 60x2.5-Φ15

320

300

280

260

250

240

220

210

200

180

Φ 76X3.0-Φ20

380

360

340

320

300

290

280

270

260

240

Φ 89X4.5-Φ20

460

440

420

400

380

370

360

350

340

320
·Bottom conditions
The roller conveyors are normally used to transport flat and relatively hard bottom cargos.For example,carton and/or pallet packed objects.If your products are not uniform and/or have soft bottom,we suggest to use the belt conveyors instead of roller conveyors.
·Operation environment(humidity,temperature,chemicals,etc)
Special operation environment requires extra processing,if object won't be conveyed under normal environment condition,please contact us for support.
·Gravity or Powered
If the cargo is light duty and you decide to use economical conveyors,you can select the gravity rollers.Powered roller conveyor normally need sprocket rollers and/or grooved rollers.The sprocket rollers are used for chain driven conveyor,and the spool conveyor requires the grooved conveyors.
Roller Mounting Method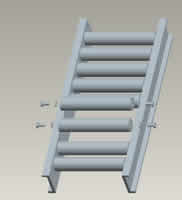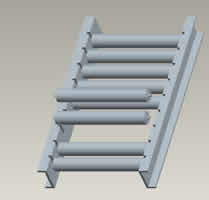 The rollers normally have 3 mounting methods(from left to right in the photo):spring shaft,threaded shaft and mortise shaft.
Spring Shaft
These conveyor rollers contain a spring that is captured between one of the bearings and a dimple on the shaft. When pushed on one end the shaft will slide through the roller allowing for insert into the frame.
Threaded Shaft
The roller can be fixed on the frame by bolts through the female thread on the shaft.This mounting method can promote the whole system stability.
Mortise Shaft
This mounting method is normally used for quarry engineering conveyors.The roller can directly be inserted into the frames,and can be easily removed.But it requires punched groove on the frames,which will bring more cost.
Brief conveyor guide
It is difficult to use one page to tell customers how to select the conveyors.We are listing some questions as following,hoping we can help you to have a main idea of what you need:
1.Is it horizontal conveying?
Ans:If yes,please go to No.3 question;If no,please go to No.2 question
2.Is it vertical lifting?
Ans:If yes,you need continuous/reciprocating conveyor;If no,you need inclined belt conveyor
3.Is it for soft bottom or bulk products conveying?
Ans:If yes,you need belt/slat conveyor;If no,please go to No.4 question
4.Do you need telescopic function?
Ans:If yes,you need telescopic roller/belt conveyor;If no,please go to No.5 question
5.Is it for unpacked food conveying?
Ans:If yes,you need mesh conveyors;If no,please go to the next.
6.Is your product extremely heavy(several tons per unit)?
Ans:If yes,you need slat/chain driven conveyors;If no,please go to the next.
7.Will you use the slat board or pallet under the cargo?
Ans:If yes,you need chain driven/roller conveyors;If no please go to the next
8.Do you have low noise and smooth conveying requirement?
Ans:If yes,you need live spool conveyors;If no you need roller conveyors.
This questionnaire is only for rough selection,nomatter what result you have,please contact us for support and suggestions.