News in 2009

Issued Date:March.10th 2009
HRD Automatic will attend the 105th Canton Fair from April.10th to April 15th,in the small machinary hall.We welcome all the new and old cutomer to visit our booth,the booth number is 1.1G.48.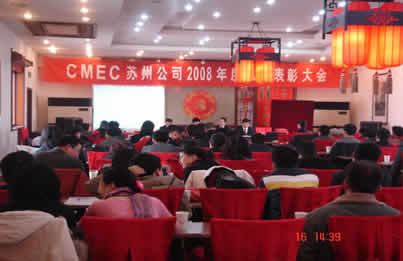 Issued Date:Jan.20th 2009
The Final Commending Convention and Dinner Party of CMEC Suzhou Co. was held in Overseas Hotel at Jan.16th,2009.Every employee of our company attend the convention. The meeting contains the following process,:achievement report of 2008, working plan of 2009, the managerment manual complement and the issues about employee representative meeting.
The office of general manager made a future analysis about the international and domestic situation. The report not only covers the gain and loss of our work in 2008, but also set up the goal of 2009. It leads us going to the bright direction of working development. All employees expressed the confidence to get good result in 2009.